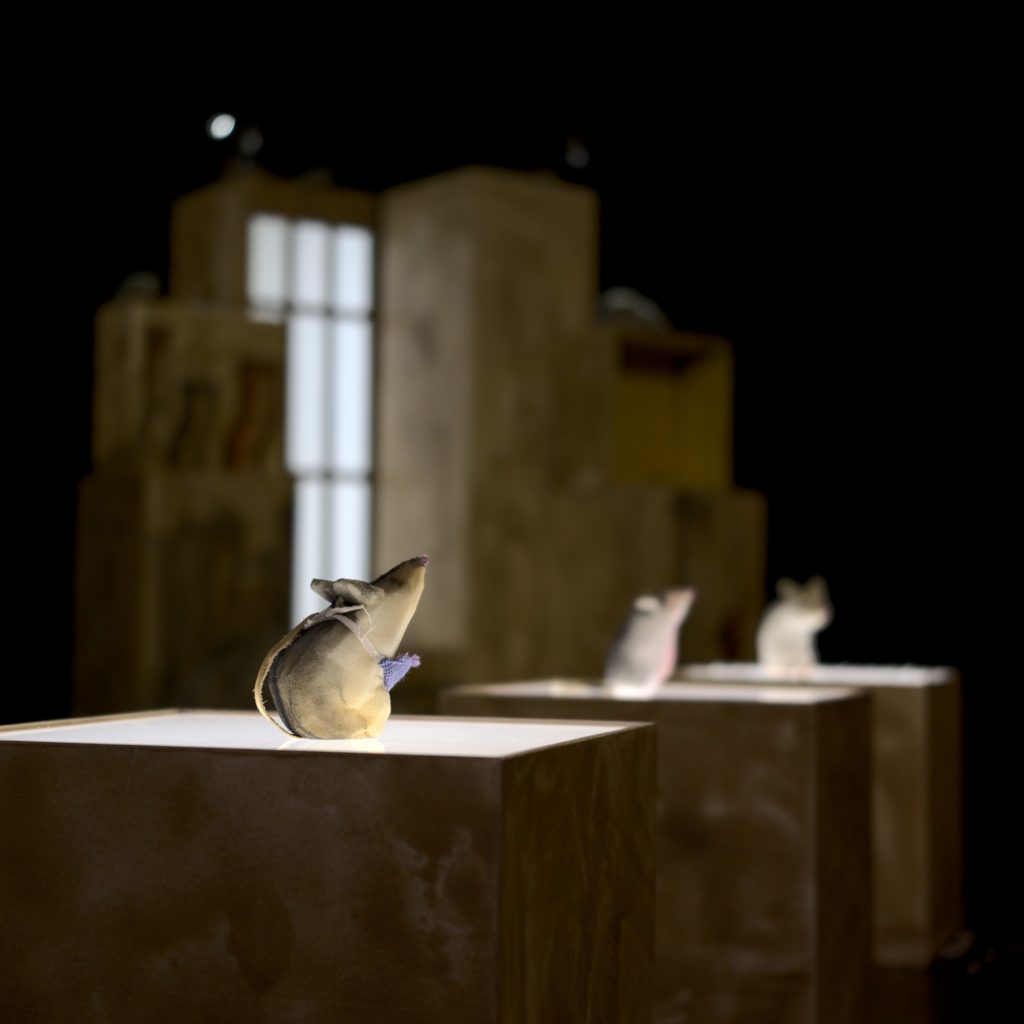 Adapted from a text by Emile Zola, Le paradis des chats was created in 2022 at the Geneva Puppet Theatre by the Mokett Company. In order to be autonomous and to be able to play in any kind of theater, the show needed a custom-made lighting installation: despite a large set, it had to fit into a small 3m3 van!
The use of aluminium telescopic light tripods small enough to fit in such a volume forced me to use very light light sources, if only for safety reasons. It therefore seemed quite justified to build a new series of projectors. The experience having been conclusive on the show Comme suspendu, I launched without hesitation a second production.
During the creation of the lighting, it quickly became apparent that although four tripods equipped with four spotlights each could cover a stage, something was missing... Some elements of the set, lit from the inside, did bring a graphic aspect, but there was a lack of ponctuals* for very specific moments.
The idea of a "pointer
The idea of a "pointer" appeared while discussing with the director Delphine Barut, a projector that would allow the actors to animate the light themselves from the stage: a sort of flashlight, in short, but redesigned for the needs of the actors, with dimmer and articulation. This was the birth of the "Nomad" projector, the second creation of the Phluux workshop.
Airbrushed to better blend in with the scenery, the three Nomads become ceiling lights or floor lamps or even chimneys, perched on the roofs of buildings. It is of course a supplement - it remains a small source - but it adds the necessary focus and brilliance to certain scenes where it may be missing.
From my point of view as a lighting designer, Le paradis des chats is a show almost too big for this type of lighting setup and I felt during the creation a certain frustration due to the lack of hooks and therefore of different directions, but this is the price to pay to be able to play literally everywhere! Thanks to the Mokett Company who gave me the impulse to create "Nomad". I know that it has long days ahead of it on other productions.
More information on the "Nomad" projector will come in a future article!
* In lighting, a ponctual is a spotlight reserved for a specific moment of the staging. It can therefore have a more precise setting than a source used to cover several cases. 
---
Read also
"Comme suspendu" and the first projectors of the Phluux workshop
A website for the Phluux workshop
External link